Prevalence, severity and preventability of prehospital patient safety incidents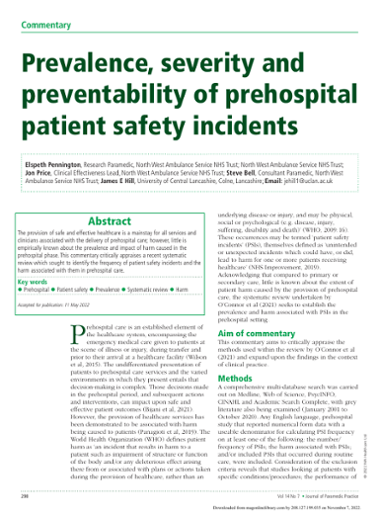 Name:
JPP 07.11.22.pdf
Size:
316.2Kb
Format:
PDF
Description:
Prevalence, severity and preve ...
Your vote was cast
Thank you for your feedback
Abstract
The provision of safe and effective healthcare is a mainstay for all services and clinicians associated with the delivery of prehospital care; however, little is empirically known about the prevalence and impact of harm caused in the prehospital phase. This commentary critically appraises a recent systematic review which sought to identify the frequency of patient safety incidents and the harm associated with them in prehospital care. Abstract published with permission.
ae974a485f413a2113503eed53cd6c53
10.12968/jpar.2022.14.7.298
Scopus Count
Collections