Enhancing mental health resilience and anticipating treatment provisions of mental health conditions for frontline Healthcare workers involved in caring for patients during the COVID-19 Pandemic - A call for action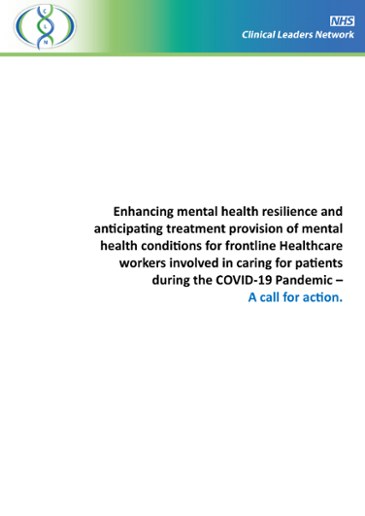 Name:
Clinical Leaders Network - Kullu ...
Size:
567.6Kb
Format:
PDF
Description:
Full text hosted by Amber with ...
Your vote was cast
Thank you for your feedback
Journal title
Clinical Leaders Network
Related items
Showing items related by title, author, creator and subject.
Physical health in mental health: considerations for paramedics

Cromar-Hayes, Maxine; Seaton, Walter (

2020-01

)

Abstract published with permission. Life expectancy for people with a mental illness diagnosis is 15–20 years less than those without, mainly because of poor physical health. Mental ill health affects a significant proportion of paramedics' patients, and practitioners could assess and promote their physical health even though contact time is limited. Factors affecting physical health include substandard and disjointed care, stigma and diagnostic overshadowing—where physical symptoms are dismissed as a feature of mental illness. Diagnostic overshadowing is not discussed in key paramedic literature, although patients with mental health problems are at risk of not having their physical needs being taken seriously. The paramedic's role in health promotion is receiving more attention. Making Every Contact Count (MECC)—a behaviour change model using brief interaction—could be adopted by paramedics to promote physical health, especially when linked to campaigns and local services. Health promotion is in its early days in paramedicine, and paramedics could learn from the experiences of other professions. (Abstract published with permission).

Decision making for refusals of treatment—a framework to consider

Jones, Steven; Williams, Barry; Monteith, Paul (

2014-04

)

Abstract published with permission. Challenges to practice are encountered on a daily basis by paramedics that often share many common recurring themes around consent or refusal to treatment. The benefits of training and open debate acknowledge the often complex decisions relating to consent and mental capacity and reduce opportunities for future legal challenge. How the law should be integrated into everyday decision making will be examined and a framework proposed to assist practice for defendable decision making. This article was inspired following joint training undertaken with paramedics and local critical incident managers from the police, which highlighted a need for a practical decision-making framework to be available for application during incidents and for use as an analytical tool to aid post-decision reflection and learning at debrief.

Pilot evaluation of utilising mental health nurses in the management of ambulance service patients with mental health problems

Irving, Andy; O'Hara, Rachel; Johnson, Maxine; Harris, Angela; Baker, Kieran (

2016-09

)

Background The urgent and emergency care review advocates new models of care to provide safer, faster and better care. Available evidence highlights scope for improvement in the delivery of care for patients calling 999 with mental health problems. The purpose of this abstract is to describe an ongoing initiative in Yorkshire Ambulance Service utilising specialist triage by mental health nurses in the Emergency Operations Centre (EOC) since December 2014. Methods An exploratory mixed methods evaluation was conducted. Interviews (n=12) with key stakeholders in the ambulance service were conducted to explore their experiences of service provision for patients with mental health problems and the impact of introducing Mental Health Nurse triage in the EOC. Interview data was coded and thematically analysed to identify key issues around service delivery for patients with mental health problems. Routine data from ambulance service computer aided dispatch was used to examine impact on patient care and resource allocation. Results Initial findings indicate that access to mental health nurses in the EOC reduced the ambulance response rate by clinically triaging calls for patients with mental health problems and only sending a resource where appropriate. Staff interviews revealed the developmental process and challenges involved in implementing the mental health triage initiative, for example, recruitment, training and governance. Staff perceptions of the initial positive impact of the mental health nurses include the delivery of more appropriate patient care and reduced anxiety for staff managing calls that now have access to specialist support. Conclusions Despite the relatively short time period since the inception of this initiative, the preliminary findings from this pilot evaluation suggest a positive impact on service delivery from a patient and organisational perspective. Lessons learned from the implementation of this initiative and its progression are potentially informative for other Ambulance Service Trusts considering adopting a similar approach. https://emj.bmj.com/content/emermed/33/9/677.2.full.pdf This is an Open Access article distributed in accordance with the Creative Commons Attribution Non Commercial (CC BY-NC 4.0) license, which permits others to distribute, remix, adapt, build upon this work non-commercially, and license their derivative works on different terms, provided the original work is properly cited and the use is non-commercial. See: http://creativecommons.org/licenses/by-nc/4.0 http://dx.doi.org/10.1136/emermed-2016-206139.2