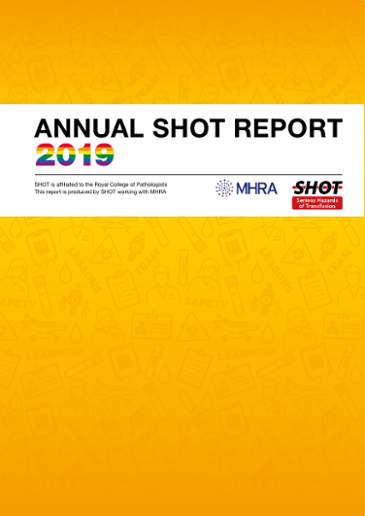 Name:
SHOT-REPORT-2019-Final-Bookmar ...
Size:
19.71Mb
Format:
PDF
Description:
Annual SHOT Report 2019.
Your vote was cast
Thank you for your feedback
Abstract
Accurate patient identification is fundamental to patient safety. Organisations must review all patient identification errors and address the causes of patient misidentification with use of electronic systems, and empowerment of patients and staff. Clinical and laboratory staff should be trained in fundamentals of transfusion, human factors, cognitive biases, investigating incidents and patient safety principles. All healthcare organisations should incorporate the principles of both Safety-I and Safety-II approaches to improve patient care and safety. Healthcare leaders should proactively seek signals for improvement from unsafe, suboptimal as well as excellent care. Healthcare management must recognise that safety and outcomes are multifaceted, a linear view of safety does not fully acknowledge the interdependencies of resources including their leadership, adequate staffing and knowledge. Healthcare leaders should ensure these are all in place to improve patient safety.
Collections